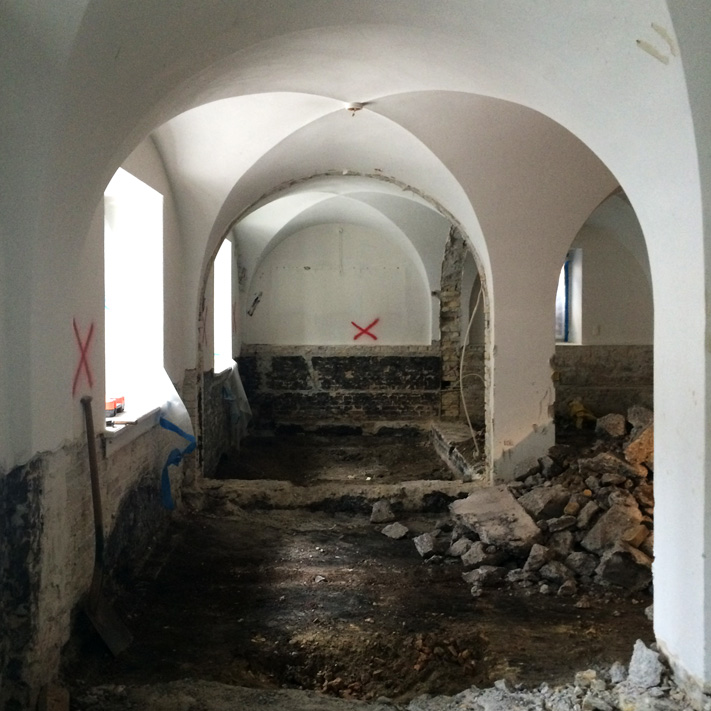 Construction has started on the new Museum of Copenhagen.
The ongoing demolition work is revealing the building's hidden layers of history in an archeological process where building gems and stories belonging to the house are slowly beeing excavated.
We feel the presence of architect Hans J. Holm – almost as if the building works as a time machine.
The Museum of Copenhagen is moving to Stormgade 18 where the museum re-opens in 2018. The new location close to other museums and cultural institutions will bring about new opportunities for co-creation and cooperation.
The project also includes the renovation and transformation of the neighbouring building in Stormgade 20 that will house office and workshop spaces for the entire organisation of History and Art (Historie og Kunst) under the City of Copenhagen.
On the top floor of number 20 we build a new roof floor with cantina and roof terrace allowing views of the Copenhagen skyline.
Together with our partner Rørbæk og Møller, LETH & GORI leads the entire design team and construction management on site. The project is the result of a year-long and inspiring design process in close collaboration with The Museum of Copenhagen, Copenhagen City Archives (Københavns Stadsarkiv), The City of Copenhagen – Kultur- og Fritidsforvaltningen and Byggeri København.
We look forward to collaborate with the main contractor Skou Gruppen and sub-contractors amongst who we find the building smith company Schaebel and painting company C. Møllmann & Co. who both actually took part in the construction of the original building in 1894
– what a celebration of continuity!
See more here: Museum of Copenhagen
And here: Historie og Kunst