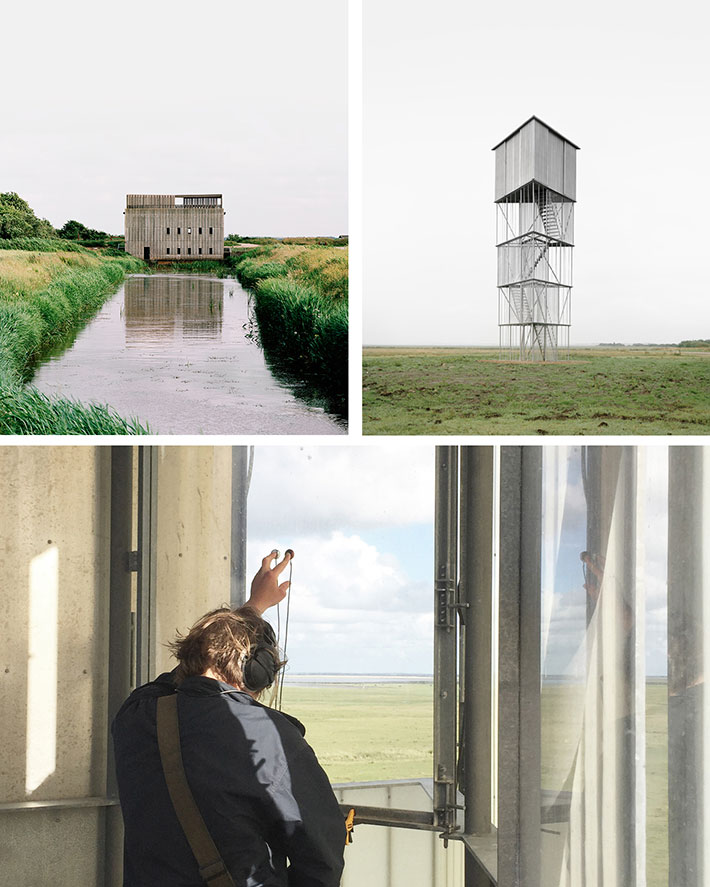 Currents and Structures / Rotunda III – Johansen Skovsted Arkitekter & Steffen Levring – Exhibition opening and book launch Friday the 14th of August @ 16-20.
The exhibition
Johansen Skovsted Arkitekter have worked with artist Steffen Levring to revisit two of the studio's projects. Both the pump stations along Skjern River and the birdwatch tower at Tipperne are the focal points in the exhibition and in the book Rotunda III – Johansen Skovsted Arkitekter which will be launched on the day.
For the exhibition Steffen Levring has made a site-specific work based on the inherent sounds in the two built projects. Levring has recorded at the venues in West Jutland with the help of contact microphones and various recording devices. In the work of the exhibition, the sounds are played using contact speakers. In this way, the sound work evokes otherwise difficult-to-access dimensions of the two projects, and at the same time uses the exhibition space with its windows, floor and ceiling as a membrane for the transmitted frequencies. In the exhibition, the sound work is in dialogue with detailed 1:10 and 1:20 models.
The exhibition is kindly supported by Statens Kunstfond
Rotunda III
Rotunda is a new book series that highlights the current Scandinavian architecture scene, through special projects from selected architectural offices. Rotunda III – Johansen Skovsted Arkitekter is the third book in the series and focuses on Tipperne Bird Sanctuary and Skjern River Pump Stations.
Trema Förlag. Editor: Dennis Hankvist, 184 pages, richly illustrated, Danish and English texts, 230×300 mm, printed in 500 copies. The book will be for sale at the exhibition.
The book is kindly supported by the Dreyer Foundation and Realdania.
Venue
The exhibition is shown in LETH & GORI's exhibition space at Absalonsgade 21B, Vesterbro. After the opening, the exhibition is open on weekdays 10-17 until 25 September.